BIO-DATA
Personal Details
Political Activities
Social Activities
Name
:
Ms. Janet Lawrence D'souza
Age
:
48 years
Address
:
D-103, Royal Classic,
CHS,Link Road,
Near D. Mart,Mulund (W),
Mumbai – 400 080.
Office Phone No.
:
022-25171981, 022-25172685
Res. Phone No.
:
022-25692498
Mob. No.
:
09820707433
Educational
:
B.Com, M.A, B.Ed
Qualification
:
(Mumbai University)
Occupation
:
Principal of Little Flower English High School.
Ghadge Maharaj Colony,
Ghatkopar, (W) Mumbai – 400086.
Position in the party
:
Member – All India Congress
Vice Chairperson – Maharashtra State Minorities Commission
Appointed as
:
Director – Maulana Azad Minorities Financial,Development Corporation Govt. of Maharashtra.Ex Education Committee Member of the Brihanmumbai Municipal Corporation.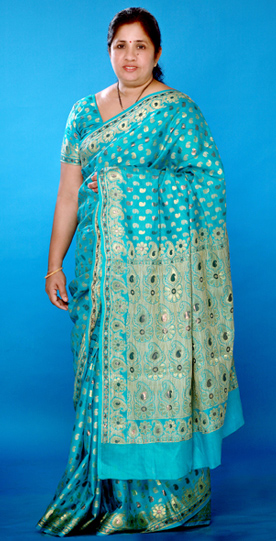 Smt. Janet D'Souza President of Mumbai Mahila Regional Congress Committee & Member of AICC is daughter of Smt. Celine D'silva who was Ex Minister of State in Government of Maharashtra in the year 1985 and M L C till 1998. Coming from a Political Family she completed her Education in Mumbai. After completing B.Com decided to join B.Ed and on completion worked as teacher in Little Flower English School founded by her mother Smt. Celine D'silva and currently she is the Principal of the same School. Married to Mr. Lawrence (Ronny) D'souza, Vice President of Bombay Catholic Sabha & National Secretary of All India Catholic Union. Daughter Dr. Vinita D'Souza, B.D.S and now pursuing M. D. S at Mangalore and Son Ryan a final year Engineering Student at Institute of Chemical Technology ( U D C T) Mumbai.
After the demise of Smt Celine D'silva in December 2000 there was a void felt by the congress workers of the constituency and they approached Janet to join active politics and beginning of a new chapter in her life. In the year 2001 started on grass root level Vice President, Block 76. In the year 2003, then MRCC President, Shri Gurudas Kamat MP & Ex Union Minister, appointed her as Joint Secretary of the prestigious Mumbai Regional Congress Committee. In the year 2005 promoted as General Secretary of the M R C C and in 2006 handpicked by Smt. Sonia Gandhi as the President of Mumbai Mahila Congress. Nominated to Education Committee member of BMC in same year. In 2008 she was appointed as Director of Maulana Azad Minorities Development Financial Corporation (Govt. of Maharashra). She is the first Christian to be given representation on the Board as a result many beneficiaries from the Christian Community have secured Financial Assistance for Education as well as for small scale Business.
In the year 2009 was given nomination to contest the Assembly Election from Ghatkopar (W), Lost the Election due to caste polarization. Lately appointed as Central Observer for 18 Assembly segments of Karnataka in Bangalore North and Bangalore Central Parliamentary Constituencies. Also renominated as Education Committee Member of the BMC on 9th March 2012.
Worked closely with Her Excellency Smt. Margeret Alva who is her role model and Mentor. Also worked with Smt. Rita Bahuguna Joshi, Dr. Girija Vyas and many leaders of the AICC.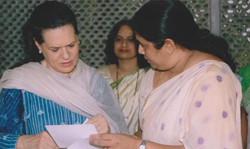 Started work on Block level with appointment as Vice President of Block no. 76 in the year 2001 and also worked as Gen. Secretary of Kurla Taluka Mahila Congress in 2002. Appointed as Jt. Secretary of Mumbai Regional Congress Committee in September 2003 under the leadership of Shri Gurudas Kamat then President of MRCC. Gained good experience working along with Shri Kamat who brought new zest and zeal to the party in Mumbai.
Appointed as Gen. Secretary of MRCC in 2005 and in September 2006 appointed as President of Mumbai Pradesh Mahila Congress by the blessings of Smt. Sonia Gandhi our beloved leader.
After being appointed President of Mumbai Pradesh Mahila Congress a challenge of reviving the organization at this level was motivation for me and within a month of being appointed a large Mahila Convention was organized with over 10,000 women attending the programme and was attended by iconic leaders like Smt. Margaret Alva, Shri. Vilasrao Deshmukh, Smt. Rita Bahuguna, Shri. Narayan Rane, Major Vedprakash and MP's and MLA's of Mumbai. Shri Gurudas Kamat as President of MRCC gave full support for the program and was instrumental in its success. Major issues like Dowry, Female Infanticide, Domestic Violence, Rape etc were given full attention and the Mahila Congress organized demonstrations and also meetings with Police and Hospital Authorities.
Women's Day International was used as a platform for honoring women achievers and also highlighting women issues.
Contested Assembly Elections in Oct.2009 against Poonam Mhajan from Ghatkopar (West). Lost by a narrow margin to MNS.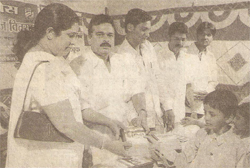 Formed NGO in the name of my mother Late Smt. Celine D'silva and working for women causes through it. As Chairperson of the Smt. Celine D'silva Mahila Mandal organized several seminars on women related issues which also offer counseling for women afflicted by social causes.
Also associated with Lions Club International and helped in various service activities through the same like Eye Donation Awareness Campaign, Jaipur Foot distribution, Polio Surgeries and Cataract Operations free of cost for senior citizens.
Formed Self Help Groups throughout Mumbai and introduced State Govt. Schemes for the welfare of women below poverty line. More than 300 Self Help Groups formed by the NGO initiated in memory of my late mother have benefited from the governmental schemes and group insurance policies issued to them through LIC of India.
As Director of Maulana Azad Minorities Financial Development Corporation Govt. of Maharashtra helped the minorities get Educational as well as direct loans not only in Mumbai but also in districts of Maharashtra. Organised seminars in Pune, Ahmednagar and Aurangabad districts of Maharashtra.